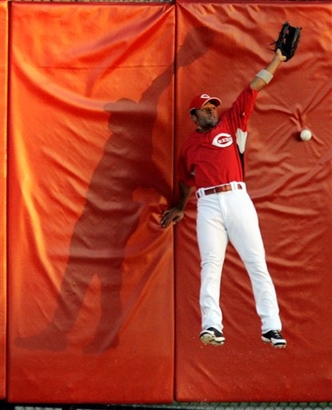 Just because everyone else on these blogs has written about it, I guess I will. Look at more here, here, here, and here.

If you didn't know, a letter was issued by Reds owner Bob Castellini and Walt Jocketty apologizing for the season of Cincinnati Reds baseball that has been like last year, and the year before and the year before, etc.

The letter screams of absurdity to me and my comrades and whats worse is the snide little comments the owner and his pawn put in the letter asking for continued support and 'patience'.

Below is said letter:


Dear Fans,

Thank you for your loyalty and support of the Cincinnati Reds. You are extremely vital to the success of the Reds, and it is important we share with you the thinking behind our recent personnel decisions.

Since taking ownership of this franchise, we have aggressively tried to improve our Major League roster for the purpose of restoring championship baseball to Cincinnati. We have sought and signed proven players. We have extended the contracts of select current players. We added Dusty Baker, a proven winning manager. And, we have capitalized on our burgeoning younger players like Joey Votto, Jay Bruce and Johnny Cueto.

We had high expectations for the 2008 season. Unfortunately the team has not played up to our expectations and we have sustained injuries to key players within our starting lineup and rotation.

We opted to trade Ken Griffey Jr. and Adam Dunn at this time because we believe it provided the best outcome for the long-term success of the organization. By executing these inevitable changes now, we secured more players as part of our focus towards building a deeper, stronger inventory of young talent.

We are pleased that the trades allow Griffey and Dunn the opportunity to play for teams in tight division races. Both Ken and Adam made significant contributions to the Reds and we are extremely proud and grateful they wore the Reds uniform.

While the run production generated by these two veterans will not be quickly replaced, we chose to endure the short-term ramifications for the sake of building a strong, competitive team for 2009 and many seasons to come.

The vast majority of our 50 draft picks were signed, culminating last week with first-rounder Yonder Alonso and a pair of talented pitchers. Our expanded scouting operations also signed
Juan Duran from the Dominican Republic and Yorman Rodriguez from Venezuela, who are arguably the best amateur free agent position players from their respective countries.

As we near September, we will continue to provide valuable playing time to our young players and new acquisitions who we feel can become significant contributors at the Major League level. We ask your continued trust and patience as we build the roster that will get us back on top. We appreciate your support and look forward to seeing you at the ballpark.

Sincerely,

Bob Castellini
President & CEO

Walt Jocketty
President of Baseball Operations & GM
Patience. Hell, if I have had patience, people that have cared longer than me must have had something much more than patience.
As much faith as I had going into this season, I soon realized that even though I wasn't happy with Griffey and Dunn, my faith was built on them. And the reason I now recognize this is that after they traded both, even though the team was under-performing already, I soon realized I had no hope for this season. Or next year, or the year after that.
Getting young players can only do so much, if they perform. And most times they do not.
In religious terms the Reds have been in purgatory for the last 13 years. They are now in Hell and are a long way from crossing the river Styx.
Once again I now see no hope for anytime soon. The team is so poorly constructed, there isn't a team in the National League I wouldn't trade straight up for, aside from Washington.
The other night,
Paul Daughtery
, columnist for the Cincinnati Enquirer compared the Reds starting lineup to the Cubs and noted only one player in the Reds starting lineup would start in the Cubs lineup. Brandon Phillips would start over Mark DeRosa. But no one else.
That got me thinking and thinking. I thought about how in even my biased mind, I wouldn't take anyone but BP over the Cubs starters. It's sad, really sad, because even when the Cubs were bad a few years ago, they still had players to build around and money to work with.
NOW, the Reds have neither.